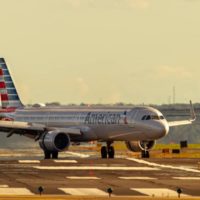 American Airlines has canceled hundreds of flights scheduled for the weekend and Monday due to staffing shortages, including employees out sick, as well as maintenance issues.  The airline, the world's largest, canceled 123 flights scheduled for Saturday, 178 for Sunday, and 97 for Monday, mostly involving Airbus A320 and Boeing 737 aircraft.
American Airlines spokesperson Sarah Jantz said: "We made targeted changes with the goal of impacting the fewest number of customers by adjusting flights in markets where we have multiple options for re-accommodation. The first few weeks of June have brought unprecedented weather to our largest hubs, heavily impacting our operation and causing delays, canceled flights and disruptions to crew member schedules and our customers' plans."
American said it also may continue to cancel at least 50 to 60 flights per day during the remainder of June and 50 to 80 flights per day in July, but that it will try to notify customers far ahead of their scheduled flight. American's flight cancellations and schedule changes come amid a surge in travel as vaccine rates slowly rise and people become more comfortable getting on planes, causing staffing shortages at a number of major airlines and the TSA.
Editorial credit: grandbrothers / Shutterstock.com