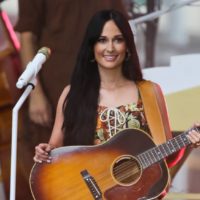 Kacey Musgraves has announced her new album 'Star-Crossed,' the follow-up to 2018's 'Golden Hour,' due out September 10. Musgraves produced the album's title track with Daniel Tashian and Ian Fitchuk, who also served as writers/producers on 'Golden Hour.' Musgraves recorded 'Star-Crossed' in Nashville earlier this year in just under three weeks, according to a press release. The album is described as "a modern-day tragedy in three acts" that "tells an extremely personal journey of heartache and healing."
Musgraves will also release a 50-minute 'Star-Crossed' film on Paramount+ on September 10. The film, directed by Bardia Zeinali, stars Musgraves along with cameo appearances from Eugene Levy, Princess Nokia, and others. Director Zeinali said in a statement: "We wanted it to feel cinematic and epic without compromising the heart and the emotion. to feel fantastical and heightened and tell her story through the lens of art and fashion."  Check out the trailer for the short film – here.
You can stream the title track instantly by pre-order the upcoming LP at your streaming service of choice.
Kacey Musgraves Officially Announces New Album 'Star-Crossed', Releases Title Track & Film Trailer
Editorial credit: Debby Wong / Shutterstock.com