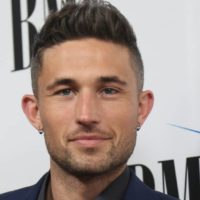 Michael Ray's latest single "Whiskey And Rain" has hit No. 1 on country radio, and the country singer took to Instagram to thank everyone who helped support the single.  Ray captioned the clip: "WHISKEY AND RAIN IS THE NUMBER ONE SONG IN COUNTRY MUSIC!!!! Y'all I gotta be real. It's been an emotional one today. Back when we were recording this song I would think about all the things I always loved about @garyallanmusic and the way his music spoke to me and my life growing up in Eustis. I hope this song has been there for you on lonely nights when you've needed it, just like Gary always has been for me. One of my favorites of his goes, "life ain't always beautiful… but it's a beautiful ride." Thank y'all for this beautiful ride!!! Thank y'all for loving this song!!! We ain't slowing down!!!
#whiskeyandrain"
In the clip, Ray emotionally shared how the song going No. 1 is very special to him: "We did it man. Woke up this morning, and 'Whiskey and Rain' is officially No. 1 at country radio right now. This one was really … I just wanted to get out here and thank y'all. My team, radio. This one's special. I love you guys. I'm gonna collect myself, and we'll do something. We'll do a live, we'll do a video, something. I just wanted to get out here and say thank y'all so much, man. What a way to start the year. I love you guys. Thank you."
"Whiskey and Rain" is the first single from Ray's third studio album, Higher Education, and marks Ray's fourth No. 1 hit.
Editorial credit: Debby Wong / Shutterstock.com