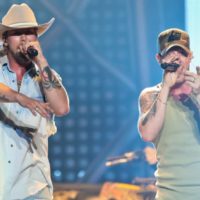 Florida Georgia Line's Tyler Hubbard and Brian Kelley are celebrating the opening of their Country Music Hall of Fame exhibit, Florida Georgia Line: Mix It Up Strong. 
The showcase features memorabilia that shares the story about FGL's rapid rise to fame; and contains artifacts such as Hubbard's saxophone he played growing up, Kelley's old-fashion baseball cap he wore in high school, Garth Brooks Takamine guitar that was used to co-write "Cruise," and helmets they sported in the 2016 music video for "May We All."
FGL is set to perform at a dozen upcoming festivals to honor their decade-long career. Following speculation on whether the duo is breaking up, the pair officially put the rumors to rest and set the record straight.  Said Hubbard:"I think 'taking a break' is the proper term, as opposed to breaking up."  Added Kelley:"We're not going our separate ways. We're taking a break from recording our music. We're being artists. We love creating. And so a couple years back, we started writing without each other and trying different writers, and now we're both doing that with our music."
Florida Georgia Line fans can visit their County Music Hall of Fame exhibit through January 1, 2023.
Editorial credit: Debby Wong / Shutterstock.com