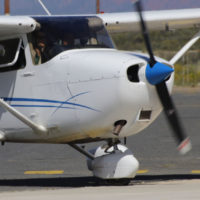 Officials confirmed that four people were killed when two small airplanes collided in mid-air at an airport near Las Vegas.  The collision happened around noon Sunday at the North Las Vegas Airport, a public-use facility about three miles north of downtown Las Vegas. It is used primarily by smaller aircraft for general aviation and scenic tours.
According to the Federal Aviation Administration ("FAA") a single-engine Piper PA-46 and a single-engine Cessna 172 collided in the traffic pattern around noon on Sunday. FAA officials say the Piper PA-46 was preparing to land when it collided with the Cessna 172. The Piper crashed into in a field east of Runway 30-Right and the Cessna fell into a water retention pond.
Authorities say two people were in each plane; the North Las Vegas Fire Department confirmed four fatalities at the scene. The FAA and the National Transportation Safety Board are investigating the cause of the crash.
Editorial credit: Barry-Roeland / Shutterstock.com