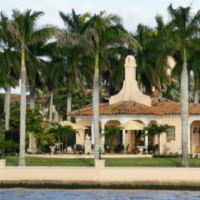 The U.S. Justice Department has finished its privilege review of the documents seized from former President Donald Trump's residence at Mar-a-Lago.  The disclosure that the review is complete was made in a court filing Monday regarding a request from Trump's lawyers for the appointment of an outside expert known as a special master to review the seized documents.
The Justice Department wrote in its Monday filing that the privilege review team has "identified a limited set of materials that potentially contain attorney-client privileged information" and has "completed its review of those materials."  The DOJ also said it is "in the process of following the procedures set forth in paragraph 84 of the search warrant affidavit to address potential privilege disputes, if any."
The filing came after U.S. District Judge Aileen Cannon on Saturday indicated in a ruling that she would potentially grant Trump's request for the special master, and gave the Justice Department until Tuesday to present its arguments. Cannon had also asked the Justice Department for an update on its review of the documents seized, and a more detailed listing of the documents in the trove.
Editorial credit: Ritu Manoj Jethani / Shutterstock.com