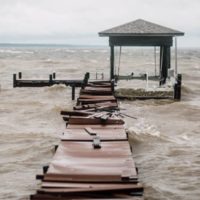 Hurricane Ian was downgraded to a tropical storm Thursday morning after leaving a path of destruction across Florida with life-threatening storm surges, trapping people in flooded homes and knocking out power to 2 million people.
Ian made landfall near Cayo Costa around 3 p.m. Wednesday as a powerful Category 4 hurricane with 150 mph winds; the storm is believed to be one of the strongest hurricanes ever recorded making landfall in Florida. The massive storm also brought torrential rainfall, and a catastrophic storm surge that left entire coastal communities under feet of water. Ian was the first Category 4 hurricane in the Gulf of Mexico since Rita in 2005.
Officials warned, however, that the powerful storm was not over. Early Thursday, the National Hurricane Center reported that Ian had maximum sustained winds of near 65 mph with higher gusts as it moved slowly through central Florida on its way to the western Atlantic.  By 5 a.m., Ian was around 55 miles southwest of Cape Canaveral and moving northeast at 9 mph, the hurricane center said. Florida's Atlantic coast, from northeast of Orlando into Georgia, could see a 6-foot storm surge. The storm is moving toward the northeast near 8 m.p.h., with a turn toward the north-northeast – and a move off the coast of Florida – expected later today. It's expected to pick up speed during the day on Friday and into the evening as it approaches the coast of South Carolina.
Life-threatening storm surges and hurricane conditions were possible on Thursday and Friday along the coasts of northeast Florida, Georgia, and South Carolina, where Ian was expected to move inland. The governors of South Carolina, North Carolina, Georgia and Virginia all preemptively declared states of emergency.
Editorial credit: John Connor Bray / Shutterstock.com