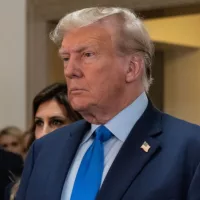 Former President Donald Trump was fined $10,000 for violating a gag order in his civil fraud trial in New York after a judge questioned him on the stand about recent comments made by the former president. Trump's remarks were made during a midmorning break, where he said: "If we had a jury it would have been fair, at least — even if it was a somewhat negative jury — because no negative jury would vote against me. But this judge will. Because this judge is a very partisan judge, with a person who's very partisan sitting alongside of him, perhaps even much more partisan than he is."
Judge Arthur Engoron asked Trump, who was on the stand, who he was referring to, and he replied Michael Cohen, the one-time lawyer and fixer for the former president. Engoron inferred Trump's remarks to mean his clerk, whom Trump had previously criticized as a "partisan Democrat." Engoron said: "I think I've said this before, but the idea the statement of referring to the witness as someone sitting along side me doesn't make sense to me." Trump has already been fined $5,000 for violating a gag order Engorn placed on all parties.
Cohen testified for a second day at the New York County Supreme Court civil trial alleging the former president inflated the value of his assets to land better business deals and tax benefits.  During his testimony Cohen said that Trump had asked him to "increase the total assets based upon a number that he arbitrarily elected." However, Alina Habba, Trump's attorney, referred to previous Cohen comments where he said Trump did not directly ask him to inflate the numbers.
Led by Trump att'y Alina Habba, Cohen's cross examination on Wednesday centered on Cohen's past of lying under oath. During Wednesday's questioning, Cohen admitted to lying to U.S. District Judge William Henry Pauley III, the late federal judge who sentenced Cohen. Habba also questioned Cohen on how he and Weisselberg drew up the statements of financial condition that included inflated total values for assets.
Editorial credit: lev radin / Shutterstock.com